Cable Area Summer Fun Challenge 2022
Download the Brochure | Download the List
The Cable Area Summer Fun Challenge is simple. Take a picture while completing any of the 101 items on this list, and post your pic on Facebook or Instagram. To be entered for a chance to win a Chamber Dollars prize, tag the Chamber or use the hashtag #CableSummerFun2022 ! Chamber Dollars can be used at any Chamber member business—so you can keep the fun going, all year long! For a full list of eligible Cable Area businesses, please visit our business directory.
Chamber Dollar Prizes:
For most items completed:
1st Place: $250 Chamber Dollars
2nd Place: $150 Chamber Dollars
3rd Place: $100 Chamber Dollars
Random Drawing for ANY person who posts with #CableSummerFun2022
$100 in Chamber Dollars
101 Ideas for How to Have Your Best Summer Yet!
1. Go for an early-bird breakfast at Cable Café!
2. Take a guided paddling tour with Up North Guided Tours!
3. Grab a bottle of top-tier wine from Rocky's Service!
4. Have a girl's shopping day: stop by My Villa, Sweet Exchange, Redbery Books, Big Brook Greenhouse, the Healing Shop, and Startline Services!
5. Find your summer home or some land with Camp David Realty, Coldwell Banker, or McKinney Realty, LLC!
6. Book your weekend getaway with North Country Vacation Rentals or Recreational Rental Properties.
7. Beat the summer heat at Big Dipper Ice Cream Shoppe
8. Discover your next beach read at Redbery Books!
9. Check out the newest exhibit, Growing Up Wild, at the Cable Natural History Museum!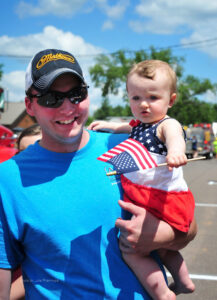 10. Visit the fairy village at the Wayside Wanderings Natural Play Area!
11. Learn some new tricks at the Cable Bike Park
12. Attend a Sunday service at Cable United Church of Christ or the Living Hope Community Church!
13. Watch the sunset on Lake Namakagon over tasty German cuisine at Garmisch
14. Grab some s'mores fixings from Rondeau's and make memories around a campfire!
15. Register for a sporting event: Hungry Bear 100, Epic Bike Fest, Chequamegon 100, or Chequamegon MTB Festival!
16. Find one-of-a-kind art at any of our local studios: Dragonfly, S. Qualey, or Once in a Blue Moon!
17. Enjoy a delicious, stone-oven pizza from River's Eatery
18. Go on the Sara Balbin Sculpture Tour through downtown Cable! (Maps at the Chamber!)
19. Try a jumbo chocolate chip cookie or a fresh made pastry from Velo Café!
20. Try one of the dishes featured on Food Network's Diner's, Drive-Ins, and Dives at the Brick House Café!
21. Go fishing in the deep, clear waters of Lake Owen. Boat rentals are available at Lake Owen Resort!
22. Try a delicious Otter Burger at Otter Bay Resort.
23. Hike the Birkie Trails or hike to the summit of Mt. Telemark!
24. Form a team and test your knowledge at The Portage Trivia Night!
25. Feeling lucky? Buy some pull-tabs at Ammo's Evergreen Tavern, Chopper's Bar, or Legion Post 487!
26. Four Seasons has fun for the whole family! Enjoy happy hour on the patio while the kids enjoy the beach.
27. Visit the Little Farmer's program at the Cable Community Farm on Sundays!
28. Fridays are for Fish Fry! Dig in at Lakewoods, Garmisch, or Pla-Mor!
29. Go for an ATV ride through the expansive trail system, maps are available at the Chamber! ATV's available for rent at Runamuk Rides!
30. Go horseback riding at Spider Lake Ranch!
31. Listen to live music under a blue-and-white canvas tent at Big Top Chautauqua on Lake Superior!
32. Rent canoes from Bear Country Rentals and float the Namakagon River!
33. Bike through the Chequamegon National Forest on the CAMBA trails. (Maps available at the Chamber!)
34. Hike to St. Peter's Dome, the highest elevation in the area, for a great view of the Great Lake!
35. Enjoy a beautiful hike on the Rock Creek Trail. Or rent a bike from Up North Guided Tours!
36. Play a challenging round of golf at Forest Ridges
37. Embrace your childhood again: try catching fireflies!
38. Shoot trap at the Cable Rod & Gun Club!
39. Build a sandcastle on the beach at Garmisch USA, Lake Owen Resort, or Mogasheen!
40. Get a fishing license at Rondeaus and catch a trophy!
41. Camp under the stars at Drummond Lake Campground!
42. Go for a drive at dusk, see how many deer you can spot!
43. Rent a canoe or kayak from Lakewoods Resort Marina and paddle on Lake Namakagon.
44. Learn about the lives and old-time skills of Lumberjacks at Scheer's Lumberjack Show
45. Treat yourself to specialty cheese at Benoit Cheese Haus!
46. Buy your friend a drink at Pioneer Bar
47. Find a beautiful hanging basket for your deck or patio at Big Brook Greenhouse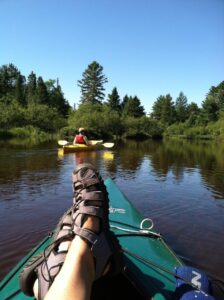 48. Find the perfect gift at My Villa Home Décor!
49. Try the Wednesday Wing Ding at Pla-Mor Bar & Restaurant!
50. Try the 'Tater Kegs' at Sawmill Saloon!
51. Tell ghost stories around the campfire
52. Check out the taxidermy at Loon Saloon, Choppers, or Pioneer Bar!
53. Take a day trip to Madeline Island on Lake Superior
54. Go to the Ruckus In The Woods Music Festival in Barnes!
55. Wake up and have breakfast prepared for you at the cozy Drumming Woods Bed & Breakfast!
56. Stay at Mogasheen Resort and hike the Namakagon Trail right from your front door!
57. Visit the Northern Great Lakes Visitor Center to check out their interactive exhibits and special programs
58. Rent a pontoon and go for a pontoon cruise around Lake Namakagon.
59. Get out your camera and shoot some beautiful nature scenes. For inspiration, check out Country Roads Photography or James Netz Photography!
60. Learn about the interesting history of our area at the Cable/Namakagon or Drummond Historical Museums.
61. Put together a game at the Grand View Ball Park.
62. 4th of July: Have red white and blue pancakes at the Community Center!
63. 4th of July fun: Participate in the CARE 5k/10k walk/run!
64. Watch the 4th of July parade through downtown Cable!
65. Enjoy Sweet Corn at the Cable Area Lion's 4th of July picnic!
66. Watch fireworks at the Cable Town Park, Grand View Park, Lakewoods, or the Barnes Town Park.
67. Have a "stay and play" weekend at Spider Lake Golf!
68. Take a tour or have a tasting at White Winter Winery!
69. Head to Clam Lake and see if you can spot any Elk!
70. Grab some dessert from Tilly's Pies!
71. Skip rocks on a lake
72. Watch the Chequamegon Children's Theatre summer musical the first weekend in August!
73. Treat yourself to some pizza at the Loon Saloon!
74. Enjoy the silence of the northwoods with a cup of tea from the Healing Shop
75. Treat yourself to a massage or adjustment at Cable Chiropractic Clinic!
76. Combine delicious with nutritious and treat yourself to a healthy tea or protein coffee at The Divide Nutrition
77. Enjoy a martini and live music at Mooselips!
78. Have a cook-out at the cabin
79. Spruce up your yard with Rick Gruel Landscaping!
80. Start a journal of all the area flora, fauna, and wildlife!
81. Go for a drive at dusk and see if you spot any black bear
82. Plan your next trip to Cable, it's never too early!
83. Wish on a shooting star
84. Treat yourself to handmade jewelry at Sweet Exchange
85. Find your zen at the Healing Shop
86. Go to Taco Tuesday at Pioneer Bar
87. Play foosball at Chopper's Bar!
88. Treat yourself to a tune-up or some new biking gear at Startline Services!
89. Try the delicious chips & queso at The Portage

90. Go swimming in Lake Namakagon!
91. Sign up for a library card at Forest Lodge Library!
92. Try the famous Biscuits & Gravy at R Place Café!
93. Take a trip with ACME River Rides
94. Hit the driving range at Hayward Golf Club!
95. Thank a Vet at the American Legion Post 487 in Cable!
96. Visit a multi-generational business: Lakewoods, Loon Saloon, Four Seasons, Evergreen, Mogasheen, Rondeau's.
97. Donate to a local non-profit: Rumble on the Lake, C.A.R.E, Cable Natural History Museum, CHARAC, ABSF, Drummond Sno-Jacks, Cable-Namakagon Historical Museum, CAMBA, or Landmark Conservancy!
98. Go to Martini Night at Four Seasons on Friday!
99. Join a local service club like Cable Area Lion's, Namakagon Trail Groomers, Great Divide Riders ATV Club, Drummond Sno-Jacks, or North End Ski Club
100. Snap a pic of Charlie Best's B-Team Barge!
101. Play pool at Ammo's Evergreen Tavern!