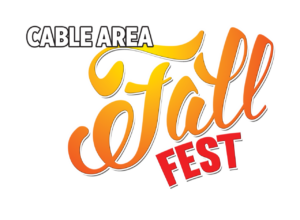 Bake Sale & Dessert Contest
 September 29, 2023 – 4pm
Desserts sold at the Cable Area Fall Fest Friday Fish Fry are homemade baked goods donated by the community.  Show off your baking skills, win prizes & help us raise money to support our community!
All desserts must include a seasonal ingredient – Apples, Pumpkin, Cranberry, Nuts & Spices, Zucchini, etc
Drop off your dessert & a copy of the recipe at the Cable Area Chamber by 4pm.  Minimum entry is one whole cake/pie  or 12 servings.
All entries are preferred to be submitted on a paper plate or disposable container.   Do not submit anything that requires refrigeration.
Winners will be selected for – Most Creative | Easiest Travelling | Most Delicious | Easiest Prep
Don't want to be judged?  That's okay, we accept all donations!
Who Can Enter?
Any and all people are welcome to enter the bake off! Kids and Adults of any age are welcome to participate.
Both inexperienced and experienced bakers are eligible to enter, but all baked goods must be made in a home kitchen.
What Can I Win?
Finalists will be selected for each category. One finalist from each category, representing first place, will win a blue ribbon as well as a prize package sponsored by TBD. Those
placing in second and third place in each category will receive ribbons representing their respective placement.  Kids (under 18) will be judged separately.
Pre-registration can be completed HERE, Registration is allowed day of the event.
Your dessert must be at the Cable Area Chamber of Commerce by 3:55pm.
Participants may enter any recipe and it does not need to be an original recipe created by the entrant. Recipes may come from cookbooks, magazines, websites, or any other means.
Please bring a copy of your recipe.
All submissions will become property of The Cable Area Fall Fest and will be sold at the Northwoods Fish Fry to help us raise money to support the community.
Submissions must be home cooked (not store bought).
Please DO NOT submit anything that requires refrigeration as the event is held outside.
All entries are to be submitted as a whole (complete pie, complete cake, complete loaf, etc.) or in the quantity of a dozen or more.
All entries are preferred to be submitted on a paper plate or disposable container. In the case that it is not suitable for this, (ex. baked fruit pies), all containers used to submit the entry are the
responsibility of the entrant. It is the entrant's responsibility to pick up their container.  Neither the organizers of this event nor any representatives are in any way responsible for the distribution of your containers.
How Will Recipes Be Judged?
Entries will be judged in the following categories:
Most Creative
Easiest Travelling
Most Delicious
Easiest Prep
How Will Finalists be Selected?
Judges are required to taste test all entries. Each judge will complete a judging sheet which will indicate each entry's score. Each criterion will require a score of 1 to 10 dependent on that
criterion. A combined score will be calculated to indicate the final scoring placement.
What Happens if I Win?
Selected finalists will be announced at approximately 5:00 p.m. on Friday, September 29th. All contestants are expected to be physically present for the announcement and accept their prize at that time. If the contestant or a representative for the contestant is not present they may pick up their prize at the Chamber during regular business hours.
Finalists will be photographed which may be used for future promotional materials for the bake off or the Cable Area Fall Fest.