Fun in the Forest ATV Ride
October 21st & 22nd, 2022 (Please note the updated date for 2022)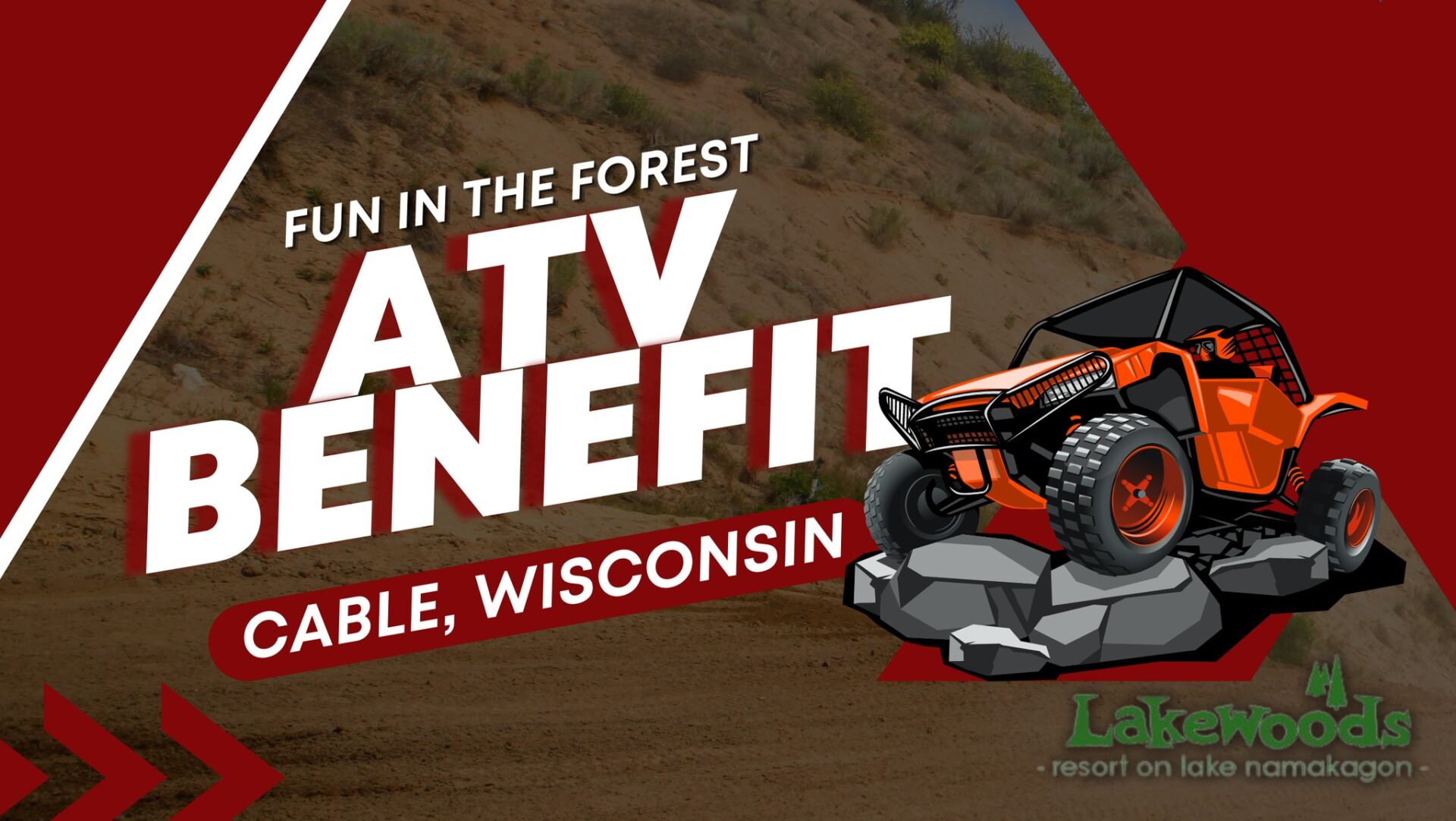 Fun in the Forest is an annual ATV ride on the renowned ATV forest trails in the Cable & Hayward area.  This great event supports children, families, and individuals in need in Bayfield, Sawyer, and Ashland counties with food, toys, and cash to help make their Holidays extra special! The Fun in the Forest Benefit Ride provides for those in need through charitable organizations such as the local Lions Club, local Toys-4-Tots, CARE, Operation Rudolph, BRICK Ministries Food Pantry, Ashland Fire Dept Toy Drive, Christmas for Kids, and more! There are hundreds of toys and pounds of food donated every year!
The official ride, a self-guided tour of the ATV trails in Ashland, Bayfield and Sawyer Counties, starts with an event kickoff Saturday morning in front of the Main Lodge at Lakewoods.  Riders that stop at nine or more of the participating restaurants, bars and businesses, and get their card stamped, will receive their very own commemorative t-shirt!  Riders are encourage to register early and ride Friday to enjoy more trails and get a head start on collecting Shirt Run stamps!
After hitting the trails, the fun keeps going Saturday night in Buck's Bar at Lakewoods Lodge with a homestyle dinner and After Party.  There are Raffles and Drawings, Poker Run Drawings for CA$H, and LIVE Music.  It always turns into a weekend to remember.
This wonderful fundraising event has continued to grow year after year, all thanks to the wonderful donors, sponsors and participants.  As an extra incentive, the ATV Club with the largest representation will receive a special donation to a Holiday Charity of their choice in their local community. We're spreading holiday cheer to everyone who participates!
Date:
Generally the 3rd Saturday in October.  Updated date for 2022 – Oct 21st & 22nd, 2022
Venue:
 Lakewoods Resort | 21540 County Highway M | Cable, WI 54821 |   715-794-2561
Registration:
$25 Donation AND one or more unwrapped gift and/or food donations (valued at $10+) per person.
100% of the gifts and event proceeds are donated to the Holiday related charitable groups.
————————————————————————–
Thursday, October 20th 6pm – 10:00 pm
Friday, October 21th 9:00 am – Noon and 6:00 pm – 9:00 pm
Saturday, October 22th 8:00 am – 9:30 am
Schedule of Events:
Friday, October 21
Riders can try a different route and get an early start on their Shirt Run Stamps!
LIVE Music in Lakewoods Bar: 8:00pm
Saturday, October 22
Breakfast: 7am – 11am (20% off for registered participants)
Event Kick Off: 9:30am in Front of Main Lodge
Ride Departure: 10am from Main Lodge
Chicken Dinner: 4pm – 10pm
Shirt Run: Turn in your cards with 10+ stamps and receive your commemorative t-shirt
LIVE Music by The Tinglers: 9:00pm