Wake Robin Pavilion Grand Opening
June 25, 2022 - 10:00 AM

 to 

12:00 PM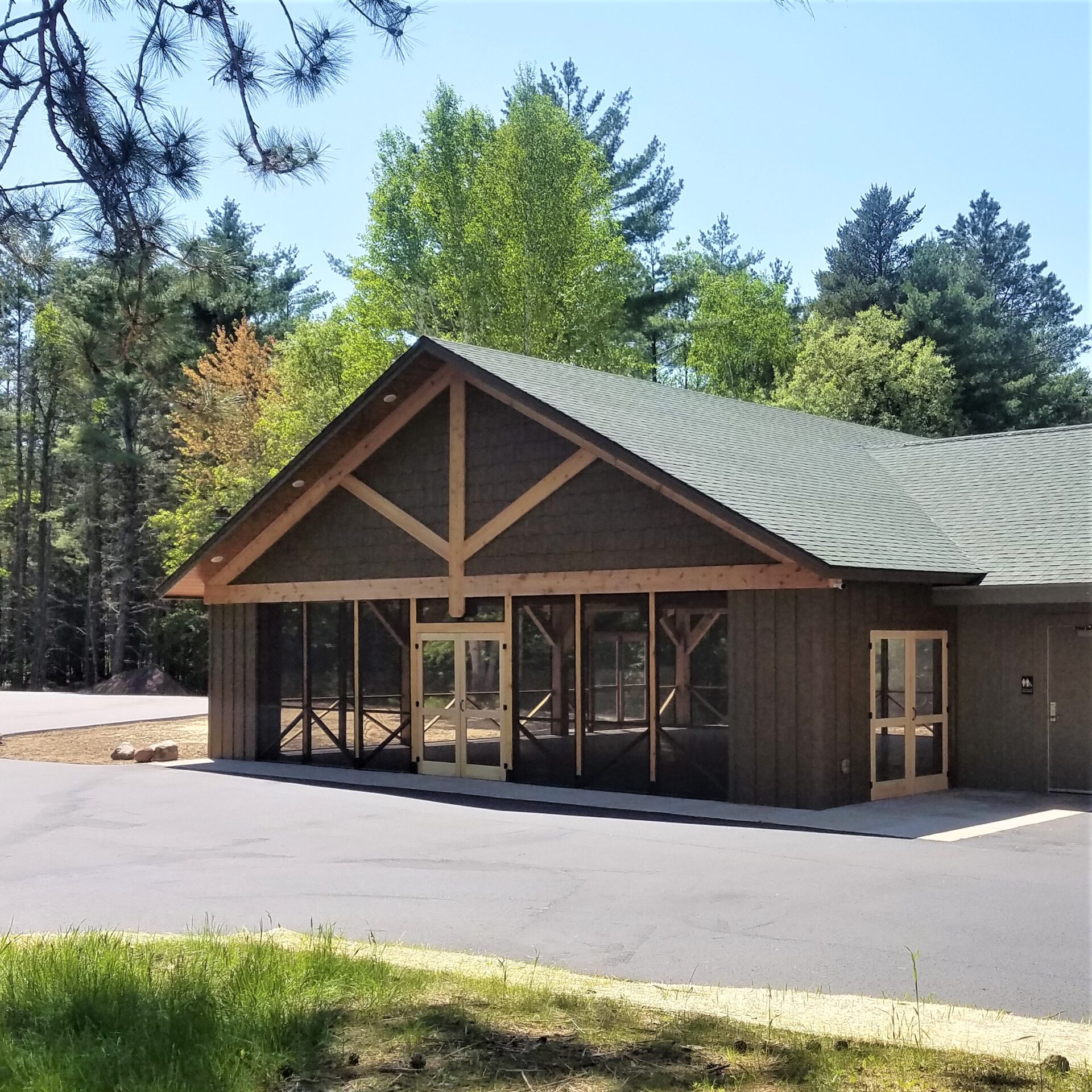 To meet the Cable Natural History Museum's growing demands for storage, programming, and accessibility, a new structure is being built at the Museum's Wayside Wanderings Natural Play Area at 43135 Randysek Road in Cable. The Museum welcomes everyone to help celebrate the grand opening of the new pavilion on Saturday, June 25, 2022, from 10:00 a.m. to noon. A ribbon cutting ceremony will be held at 10:00 a.m. followed by treats and Art of Natural Play.
The new structure will include a 1600 sq. ft screened pavilion and kitchen available for programming, accessible flush toilet, improved parking to better accommodate visitor abilities, functional workshop space for dedicated exhibit construction, and safe storage for reusable exhibit components. The building and landscaping were designed and built in keeping with the Museum's mission and goals.
While the whole structure meets many needs for Museum operations, we are most excited for the public to enjoy the new pavilion" says Deb Nelson, Museum Director. It has been named "Wake Robin," a common name for Trillium. The three petals represent wonder, discovery, and responsibility from the Museum's mission statement. It will serve as a large, dry, and bug-free assembly room at Wayside Wanderings, expanding the property's use for weather conditions and large groups. The dedicated space also provides opportunity for programs limited by the layout of the Museum's current public spaces.
Wayside Wanderings Natural Play Area is located less than half a mile down the road from the Museum on 13 acres of heavily wooded rolling terrain that the Museum acquired in 2000. Once the homestead of the Museum's founding director, Lois Nestel, the property is named after her authored newspaper column, "Wayside Wanderings." Along a one-mile loop of trails, the Natural Play Area is filled with play elements made from natural materials for everyone to enjoy.
The Cable Natural History Museum would like to thank the donors that made Wake Robin possible. Deb Nelson, Museum Director, said "The necessary funds have been secured in full for campus development thanks to the many generous supporters who gave pledges specifically for this project. We would like to especially thank the Jamieson Charitable Foundation for their active role in completing Wake Robin."